Devi Mookambika Astro Center
Pandit Sri Sidhanth Arun Sharma Guruji
Guruji's doors are open to people of all religious affiliations, including the high and low, poor and rich. From ordinary individuals to powerful politicians, businessmen, bureaucrats, armed service personnel, doctors, and professionals, all sought his blessings. Regardless of their social status or profession, Guruji blessed everyone equally. The proximity to Guruji's feet did not determine the effectiveness of his blessings, as those seeking his blessings from anywhere in the world benefited equally. The key to receiving Guruji's blessings was complete surrender and unconditional faith in him.
Facing problems in life? Contact genuine astrologer in banglore, pandit Sidhanth Aun Sharma Guruji the best astrologer.
Pandith Sidhant Arun Sharma Guruji, who resides in Bangalore and runs the Sri Mookambika Jyothishya Peetam, is a trusted astrologer providing accurate predictions and 100% remedies for all kinds of problems. As the best astrologer in Bangalore, he can help you prosper by solving all your problems. If you're facing any challenges, don't hesitate to consult with an expert astrologer in Bangalore today for immediate solutions. Trust Pandith Sidhant Arun Sharma Guruji for accurate predictions and effective remedies.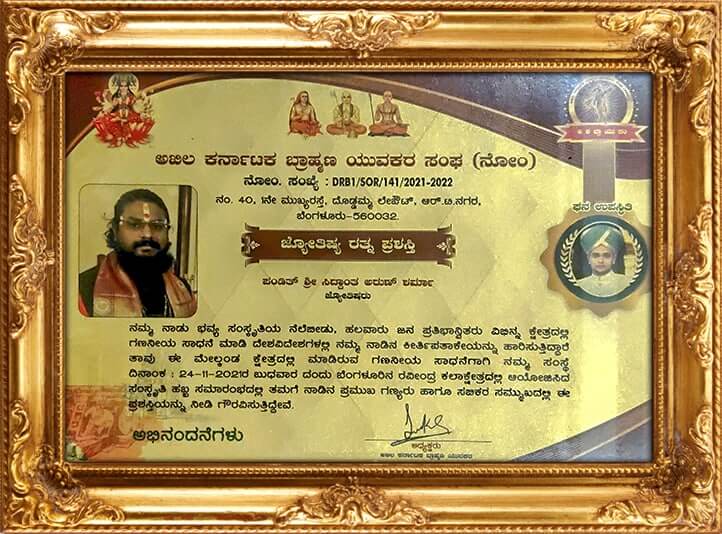 Jyotishya Vibhooshana Award